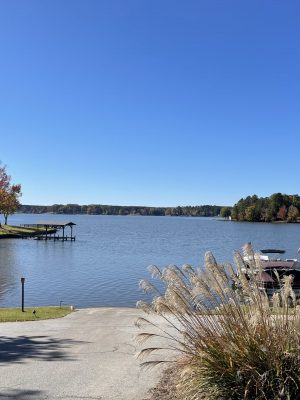 You Have Arrived!
Welcome to Lake Greenwood Motorcoach Resort!
Our resort offers the finest on-site services, facilities and access to make your stay – be it a long weekend or a lot longer – an enjoyable one. This is what you've worked for. This is what you deserve.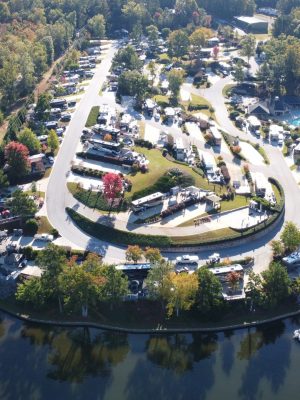 Lake Greenwood
Our resort's namesake is likely our single most significant asset. A top-class bass and crappie fishing lake, it also is ideal for boating and a variety of water sports. Nearby Lake Greenwood State Park offers an easy-to-walk nature trail and hosts the South Carolina Festival of Flowers Triathlon every June. Best of all, every one of our terraced owner sites offers stunning views of our lush landscaped ground and amazing sunsets.
Spacious, Reinforced Concrete Pads
Park your luxury motorcoach on a large, reinforced, concrete pad. Each site includes full hook-ups with 50-amp service and mature landscaping. Owners enjoy customizable options on their sites, including approved decks, storage sheds, summer kitchens, gazebos and concrete patios!
Boat Docks and Storage
Renters can use the boat launch and boat docks. You must reserve a boat dock if you wish to leave your boat in the water during your stay. Without a reservation you will be required to take your boat in and out of the water each use. With ownership comes access to boat slips, along with use of a secure, outdoor, boat storage facility.
Clubhouse
The luxurious clubhouse overlooks the lake and includes a large gathering room and TV lounge area, each with its own fireplace. A well-equipped outdoor kitchen is a great place to reheat or prepare items for events. Both wings of the clubhouse have large verandas and outdoor ceiling fans, and are perfect for our social gatherings as we enjoy the beautiful lakeside view. The clubhouse, including the spa, pool, outdoor kitchen, shower, restrooms, and laundry facilities are open to all owners and resort guests.
Laundry Facility
The resort offers an on-site coin operated laundry facility next to the clubhouse.
WiFi
The resort features newly installed WiFi and upgraded internet powered by commercial grade StarLink. Enjoy high-speed internet throughout the resort.
Dog Park
Friendly furry friends are welcome too! We have an amazing dog park complete with a fire hydrant!